Change begins here.
Please consider the following questions:
Is it right that our youth have an incredibly dangerous, toxic and socially problematic drug as their only recreational option?

If there is a safer option why would we ignore and outlaw it or, even worse, demonise it?

Alcohol vs. cannabis: Which one is safer and, therefore, the responsible choice?
If you have ever pondered these questions before, or having read the above are now doing so, GOOD! We hope we can help you find some answers to empower you to make the responsible choice for yourself, your family and our society.
"Drugs Without the Hot Air" – Professor David Nutt (2012)

This essential read is for anyone interested in drugs, and for parents, teachers, doctors and others who have to work with the consequences of drug use in our society. It poses many provocative questions, including how harmful is alcohol compared to illicit drugs?
"Marijuana is Safer: So Why are we Driving People to Drink" – Steve Fox, Paul Armentano and Mason Tvert (2009)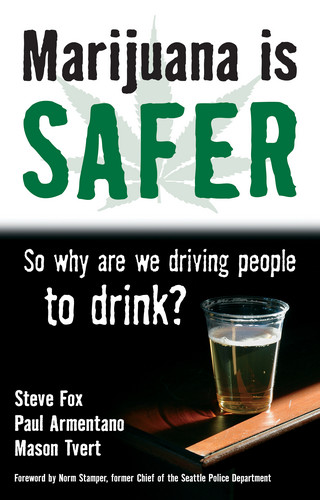 An essential read for anyone concerned with the effectiveness of prohibition as drug policy in Australia and the considerable negative health outcomes resulting from our pro-alcohol culture.
Marijuana is Safer 'Free to Read' Web version
"Breaking the Taboo" – (2012)
Narrated by Oscar winning actor Morgan Freeman, "Breaking the Taboo" is produced by Sam Branson's indie Sundog Pictures and Brazilian co-production partner Spray Filmes and was directed by Cosmo Feilding Mellen and Fernando Grostein Andrade. Featuring interviews with several current or former presidents from around the world, such as Bill Clinton and Jimmy Carter, the film follows The Global Commission on Drug Policy on a mission to break the political taboo over the United States led War on Drugs and expose what it calls the biggest failure of global policy in the last 40 years.

"The Culture High" – (in production, Kickstarter funding goal achieved)
The HIGHLY anticipated follow up film to the cult classic documentary The Union: The Business Behind Getting High.

"When we grow… this is what we can do" (2011)
"When We Grow…This Is What We Can Do" is an educational documentary concerning the facts about cannabis. This feature length documentary explores everything there is, from industrial hemp to medicinal cannabis use, from the origins of cannabis prohibition to the legality of growing equipment.  A film by Seth Finegold and presented by Luke Bailey.